There are at least 10,000 proteins in the human body. And one of them is called "intrinsic factor". [1]
This protein is made by the parietal cells of the stomach lining. Its job is to help your intestines absorb vitamin B12.
And there you go! Now you know what intrinsic factor is. Blog over. 
Just kidding!
When talking about intrinsic factor, there are a few more things you should know.
Let's dig in…
Why is intrinsic factor so important?
As stated above, intrinsic factor helps the body absorb vitamin B12. The protein binds to the vitamin, then together they travel to the intestines to be absorbed into the bloodstream.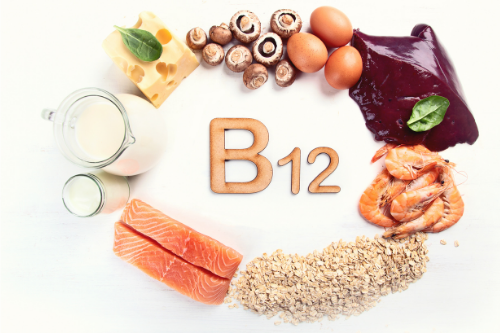 This is a crucial process as vitamin B12 is essential for optimal health. Bodily functions that B12 plays a role in includes:
Normal functioning of the brain and nervous system

Cognitive functioning

Formation of red blood cells and anemia prevention

Helping create and regulate DNA

Possibly preventing congenital abnormalities

Helping protect the eyes from macular degeneration

Necessary for energy production
Additionally, vitamin B12 is essential for healthy blood. When the body does not have enough B12, it can lead to decreased normal red blood cell production (anemia), which impairs oxygen delivery. 
Megaloblastic anemia – or nutritional-deficiency anemia – is a type of anemia caused by B12 deficiency. When someone has megaloblastic anemia, their body creates large, abnormal, and immature red blood cells.
Another B12 deficiency anemia is called pernicious anemia. 
Pernicious anemia
Pernicious anemia is characterized as the blood being low in normal red blood cells.
It's mainly caused by the body being unable to create enough intrinsic factor. 
Up to 50% of anemia caused by vitamin B12 deficiency is the result of low intrinsic factor. An estimated 1.4 million Americans over the age of 60 are affected by pernicious anemia. [2, 3]
Symptoms of pernicious anemia
Unfortunately, it can be hard to feel the effects of pernicious anemia. This is because the symptoms are broad and often come on slowly, gradually becoming worse over time, until you simply think the way you're feeling is normal.
Symptoms include…
Fatigue

Weakness

Headaches

Chest pain

Weight loss

Pale skin
In more severe or prolonged cases of vitamin B12 deficiency, including cases due to pernicious anemia, neurological symptoms may arise. These can include:
An unsteady gait

Numbness in the arms and legs

Muscle weakness

Depression

Memory loss

Dementia
Other symptoms of vitamin B12 deficiency, including that due to pernicious anemia, include:
Nausea and vomiting

Confusion

Constipation

Loss of appetite

Heartburn
As you can see, these symptoms are quite general and their cause can be difficult to pinpoint. But as we age, our bodies are more prone to disrupting the production of intrinsic factor. This can be caused by a loss of parietal cells (cells that line the interior of the intestine), intestinal or digestive disorders, surgeries, or medications. [4]
These symptoms and the long-term consequences of deficiency can diminish your quality of life.
With these potential risks of your body being unable to absorb vitamin B12…
Why not make sure your body is absorbing your nutrients?
Purality Health's Vitamin B12 is infused with a micelle liposomal formula which is designed to get fully absorbed and used by your body. 
Not only that, it's in an easy-to-take liquid form, and tastes amazing!
> Click here to see ingredients, reviews, and more
References and resources: