Some experts believe that as much as 90% of some populations could be deficient in vitamin D. That's pretty high considering the body creates vitamin D from sun exposure. So, there's gotta be more to it, right? [1]
Vitamin D is a powerful antioxidant that helps to support immune function, enhances detoxification (aiding natural weight loss), supports heart health, maintains brain health, encourages healthy cellular function, and more! It's a key nutrient – so you can imagine how detrimental it can be to your overall health and well-being for you to be deficient in it.
That's why it's important to understand how you can get enough Vitamin D…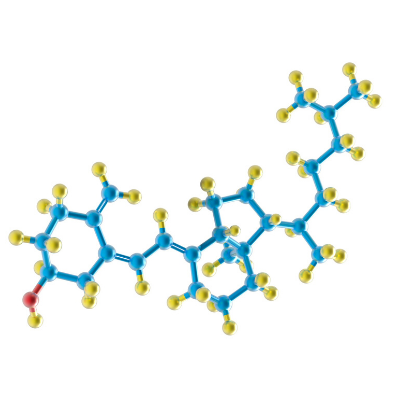 From Sunlight to D3…
Sunlight is simply the first step in a number of steps your body takes to create, absorb, and use vitamin D. But it's more complicated than you may think. For example, did you know that sunlight coming in through a window won't lead to vitamin D production? 
UV rays have three classifications – UV-A, UV-B, and UV-C. While some UV rays can penetrate window glass – causing tanning, freckles, & other effects on your skin – others cannot. And only one is the type of ray responsible for vitamin D production in the skin… 
When your body is exposed to direct sunlight, the UV-B rays convert a substance in your skin into pre-vitamin D3. The success of this depends on the amount of melanin in your skin. The darker your skin, the more melanin. This pigment acts as a protector from UV rays by absorbing them. And the more melanin you have, the more UV rays are absorbed before they can be used and turned into vitamin D3. 
Because of this, people with darker skin will need more sun exposure to create adequate amounts of vitamin D3 – anywhere from thirty minutes to three hours longer than lighter-skinned people, depending on pigmentation.  
Once your body has gathered the correct molecules, they transform into vitamin D3 and are absorbed by your body. [2-5]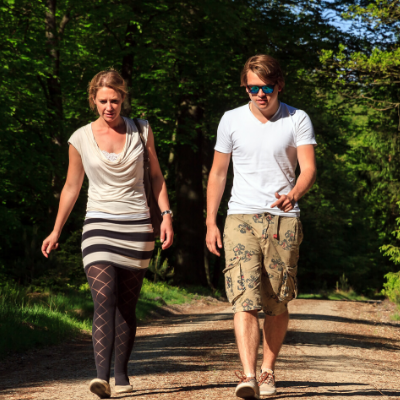 But how much sun is enough?
It is thought that most people can get a sufficient amount of vitamin D3 by going about their daily routine. But routines vary… 
If you're looking to optimize your sun exposure for vitamin D3, there are things you can do. 
High noon is thought to be the best time to absorb UV rays if you're looking for vitamin D3, as the UV-B rays are most intense at this time. One study in the United Kingdom found that sun exposure for thirteen minutes at noon, three times a week, was enough to maintain healthy levels in Caucasian adults. 
Some scientists recommend having a third of your skin exposed in order to create enough D3. With a third of your skin in the sunlight, ten to thirty minutes is thought to be sufficient for lighter-skinned people. If your skin is dark, you should allow more time in the sun. [5]
D3 in the wintertime
Sometimes – okay, a lot of the time – the sun just isn't shining. Obviously, this depends on where you live. The closer you are to the equator, the more likely this will not be an issue for you. But a lot of people live in areas with dreary winters. 
In these regions and climates, the UV-B rays from the sun are diminished, making it difficult to create vitamin D3 naturally. In the northern cities of Boston, MA, and Edmonton, AB, Canada, researchers found that people had difficulty creating any vitamin D3 from the sun between November and February. Similarly, people in Norway could not make any vitamin D3 from the sun between October and March. [6-7]
Even if you do live near the equator, are you taking the time to expose enough skin to enough sunlight throughout the week?
When D3 via sunshine isn't an option, people must rely on food sources for vitamin D. But not a lot of food contains the vitamin naturally, so many foods are fortified with it. 
A more reliable way, however, is through supplementation. 
Vitamin D deficiency
Now that you better understand the process of obtaining vitamin D through the sun, it makes more sense as to why vitamin D deficiency affects over forty percent of the American population. Deficiency can cause considerable deterioration of your well-being, taking away from your ability to make the most of your days. If you think you may not be getting enough D3, you should consider a supplement.
Purality Health® Micelle Liposomal Vitamin D3
Our Micelle Liposomal Vitamin D3 is infused with vitamin K2, which helps the vitamin D3 operate as it should, instead of having calcium build-up where it shouldn't. [8-9]
On top of that, the micelle liposomal delivery ensures optimal absorption – it protects the fragile Vitamin D3 and K2 molecules from breakdown in your digestive tract and enhances absorption to the bloodstream, delivering the powerful serving right where you need it.

References and Resources:
2.     Vitamin D Metabolism and Function in the Skin
3.     How Do Our Bodies Make Vitamin D?
5.     How To Safely Get Vitamin D From Sunlight
6.     Influence of Season and Latitude on the Cutaneous Synthesis of Vitamin D3: Exposure to Winter Sunlight in Boston and Edmonton Will Not Promote Vitamin D3 Synthesis in Human Skin
7.     Seasonality of UV-radiation and Vitamin D Status at 69 Degrees North
8.     Proper Calcium Use: Vitamin K2 as a Promoter of Bone and Cardiovascular Health
9.     Vitamin D in Vascular Calcification: A Double-Edged Sword?  10.  Sunlight and Vitamin D