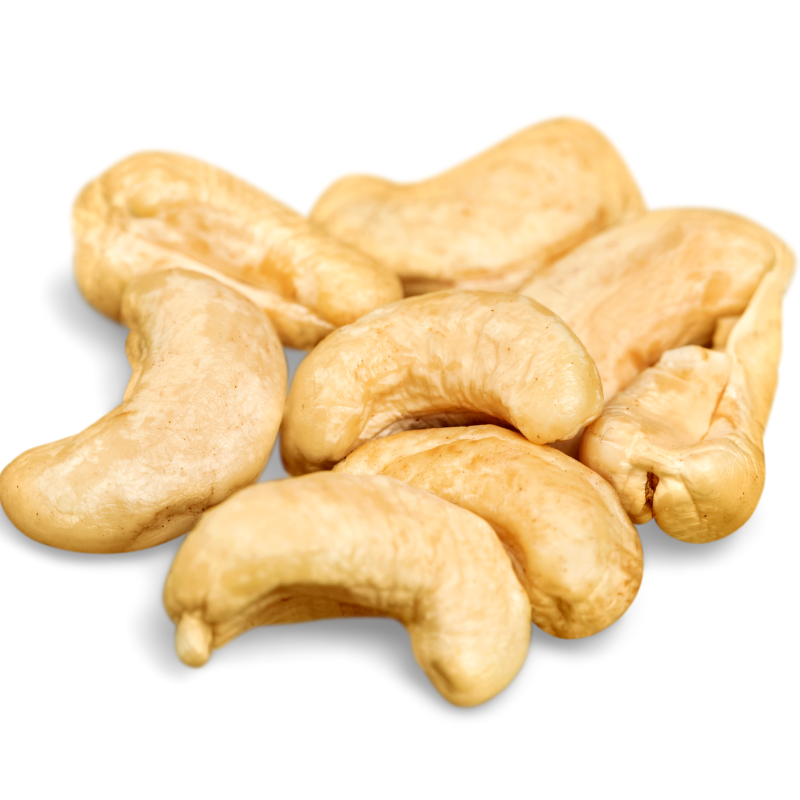 Nuts are superfoods hiding in plain sight. They're packed with healthy fats and other nutrients, but they tend to be overlooked as health foods due to their commonality.
Nuts have also been largely transformed into processed snack foods — roasted, salted, sweetened, and modified into less healthy treats that often bear little resemblance to their unprocessed cousins. But the best way to get the most out of them is to eat them raw. 
Pesticide-treated, pasteurized, or roasted nuts can lose some of their nutrients. The more they're processed, the less dense they're likely to be. But if you eat nuts raw, you're in for a delicious, versatile, and health-promoting treat.
Here are 9 reasons cashews make a healthy snack:
1. They contain healthy fatty acids that promote heart health


Omega-3 fatty acids are important for cardiovascular health. Studies have shown that — thanks to their omega-3 content — consumption of cashews and other healthy nuts help lower cholesterol, increase vascular reactivity, and improve overall heart health.
2. They're high in magnesium
Nuts are rich in magnesium, with cashews being one of the richest.
Magnesium is a crucial mineral for your body, involved in over 300 biochemical reactions.
It helps with energy creation, protein formation, gene maintenance, muscle movements, and regulating the nervous system. As such, magnesium can help with heart health, exercise performance, cognitive function, and more.
3. They can boost hair health

Thanks to their abundant copper content, cashews can help protect your hair against the effects of aging. While more pointed research is necessary to confirm this benefit, there are plenty of anecdotal success stories, and researchers do know that copper helps the body produce the proteins and pigments responsible for giving hair its strength and color.
4. They help calcium absorption in the bones

Cashews' unique and powerful nutrient profile can help keep bones healthy and strong. Studies have revealed that the iron, magnesium, and calcium in cashews — combined with their ability to lower oxidative stress — can help prevent bone demineralization and boost calcium absorption in bones.
5. They balance the nervous system
A wealth of research has demonstrated that cashews (and other healthy nuts) can help boost the health of the nervous system (which includes the brain, of course). Researchers have found that including raw cashews in one's diet can help boost memory, cognition, and brainwave activity. The magnesium in cashews also helps support the health of the nervous system. 

6. They help prevent gallstones
Gallstones (which are similar to kidney stones), affect at least 10% of the population. They can be terribly painful and can lead to health complications if not addressed. Luckily, regular consumption of cashews and other healthy nuts is associated with a reduced incidence of gallstones in both men and women.  
7. They help with weight loss and body composition
Due to their monounsaturated fat and anacardic acid content, cashews can help regulate metabolism and the uptake of both glucose and fat. This mechanism — combined with their ability to lower oxidative stress — makes cashews an excellent choice for those looking to lose a few pounds.
8. They enrich the body with antioxidants
We've written before about why antioxidants are important. If you've read that post, you may know why it's great that cashews are packed with them. Their beneficial phytonutrients and minerals help boost immune function, aid in detoxification, and support overall health.

9. They aid in digestion and help alleviate stomach issues
Raw cashews (especially when sprouted) contain beneficial enzymes which help aid in digestion and regulate metabolism. But remember: pasteurization may denature the enzymes (and most of the other beneficial components) in cashews, so go the extra mile to seek out truly raw cashews (even some cashews advertised as "raw" on store shelves have been flash pasteurized).
How to get more cashews in your life
The good news is that cashews are absolutely delicious and suitable for a wide variety of dishes and recipes. Just remember to use truly raw cashews, as pasteurized and roasted cashews often contain less of their usual beneficial nutrients.
Add cashews as toppings in salads and stir fries, or blend them up in smoothies. You can also make cashew milk, vegan cheese, or sauces with them! The sky is the limit! 
Another nutrient with similar traits is…
Curcumin! It has antioxidant properties, helps aids digestion, helps boosts immune function, and more!
Many people cook with turmeric, (curcumin is a key component of turmeric) but it's notoriously difficult for your body to digest and absorb properly. That's why we've extracted the curcumin, added ginger and DHA, and infused them with a liposomal delivery method!
Perfect for adding to recipes or taking as is, Purality Health's Micelle Liposomal Curcumin Gold is a great addition to your health journey.