When the leaves change, the air gets cooler, you get out your sweaters, and everything is about pumpkins – you know autumn has officially arrived. But as autumn goes on and turns into winter, something else changes as well.
Your skin.
As the season shifts, our bodies have to adapt to the changes in the environment around us. And our skin is our first line of defense. 
What happens to our skin in the fall/winter?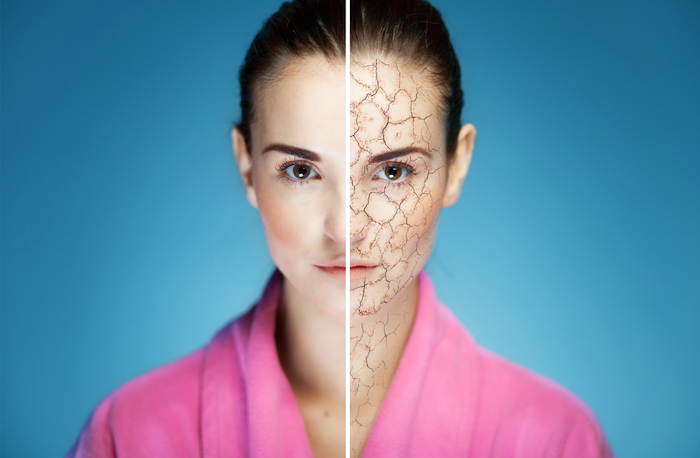 Once autumn comes, gone are the days of gentle, warm summer breezes. Instead, we have crisp air and wind that leaves your skin dry. And dry skin is more sensitive than normal. As such, you may notice that your skin becomes visibly irritated – red or blotchy – more frequently. You may also notice that your summer glow is gone and your skin isn't looking or feeling its best. In fact, it may even look dull or have a few rough patches from the dryness. It's not a good look heading into the holidays and certainly not comfortable to deal with. 
One of the worst fall/winter symptoms is the cracking of skin. If your skin becomes too dry – which happens often in the colder months – and doesn't get the hydration it needs, it can result in cracks on our face or lips that are often painful. But these aren't just uncomfortable, but can actually harm your health. These cracks in the skin can actually allow bacteria to enter, causing infections. 
But don't worry – it's not all bad! The good news is that we know about this problem, so we can look for some solutions. All it takes is a few other changes while you swap out your wardrobe for the season!
How to help protect your skin in the fall/winter
To prepare and get through the winter, there are a few things that you can do to ensure you have the healthiest skin possible. Below, we'll go over the top protective measures for healthy, beautiful skin all winter long.
Use gentler skincare products
It's useful to regularly go through your cosmetics and analyze your skincare routine to ensure you're doing what's best for your skin – and fall is as good a time as any other to do so. See if there are any product swaps you need to make – maybe based on ingredients or current needs – or decide if you need to cut anything out of your routine. The cold air our skin battles in the colder seasons can cause dryness, which often leads to dryness and flaking. Because of this, it's important to cut out any products that could irritate your already-sensitive skin. 
For this time of the year, look for products that are gentler and more soothing. You want a product that will cleanse your skin without stripping it of its natural oils so that you're not losing any of your much-needed hydration. 
Moisturize twice a day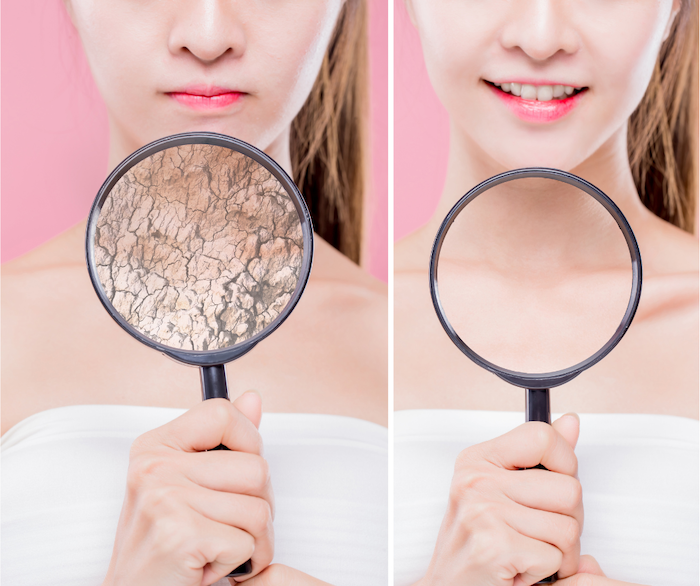 While you should really be moisturizing twice per day – preferably in the morning and at night – regardless of the season, it's especially important to do so when the temperature begins to drop. As mentioned before, the dryness brought on by the cold wind and air will leave your skin dryer and more vulnerable, and you want to help it the best you can.
You can do so by moisturizing twice per day to combat the cold dry air that your skin will encounter on a daily basis. You may also find that your summertime moisturizer no longer does the trick, so consider switching to a thicker and creamier moisturizer for these colder months. This will help provide your skin with the hydration that it craves. 
Also, remember to not just moisturize your face. While the skin on your face is important, your entire body needs hydration when the weather is cold. When you hop out of the shower, make it a priority to apply moisturizer all over your body to ensure your skin stays smooth, hydrated, and free of irritation. 
And speaking of hydration, be sure to drink plenty of water on a daily basis. This is especially important to keeping your skin looking and feeling its best. 
Repair the damage from summer
Our skin is affected by the summer in two main ways. One, it tends to get oily. And two, the ample sun exposure can cause UV damage to it. What we're left with in the fall can often be pores that appear too large or are clogged, which means it's time for a deep clean. 
One option is to do a "skin peel" treatment to revive your skin and help minimize the appearance of your pores. Another option is to get products such as serums or treatments with acids such as glycolic, lactic, and salicylic. These can help reduce the appearance of pore size while clearing them of dirt, oil, and lingering bacteria. 
If you find that your skin is looking dull and has lost its summer glow, make sure you're exfoliating regularly. This can help bring your skin back to life and remove any flaky patches you may have. However, if exfoliating irritates your skin, scale back on it or find a gentler exfoliant. 
Ensure you have optimal vitamin C levels
This incredible antioxidant, anti-inflammatory nutrient is known to improve skin tone and texture, hydrate the skin, and reduce signs of aging. Adding vitamin C to your skincare routine can not only brighten your complexion but also protect against skin damage caused by sun exposure and harmful free radicals.
Normal skin contains optimal levels of vitamin C to carry out a range of functions including hydration, protection against oxidative damage, collagen synthesis, and more. In fact, research shows that healthier skin tends to have higher levels of vitamin C. [1]
A few clinical studies have demonstrated that vitamin C can improve wrinkles. One study showed that daily use of a vitamin C formulation for at least three months improved the appearance of fine and coarse wrinkles of the face and neck, as well as improved overall skin texture and appearance. [2, 3]
A lot of this may have to do with how vitamin C promotes the production of collagen within the body. [4]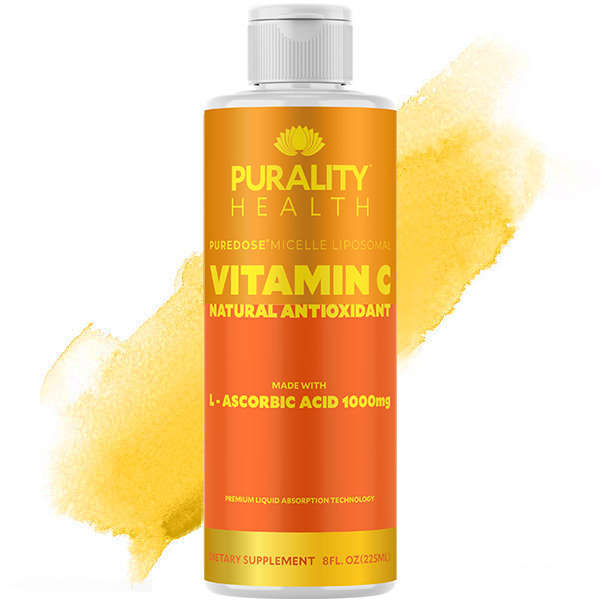 Collagen is the most abundant protein in the body and it's what makes up most of your skin. It makes up a fibrous network within your skin that holds it together, maintains elasticity, and prevents wrinkles. It also improves skin moisture and hydration, which is especially important throughout the winter. 
However, as we age, our collagen levels naturally deplete. Factors such as stress, smoking, alcohol, and environmental toxins wear down our collagen and this fibrous network. This results in wrinkles, blemishes, and skin issues. 
This means that your skin is more fragile with each passing winter.
With a highly absorbable vitamin C, you can restore not just the antioxidants that bolster the health of your skin, but your collagen levels.
Purality Health's Micelle Liposomal Vitamin C is not only the most reliable and absorbable vitamin C formula available today, but it's all natural and contains vitamin E for increased skin health.