Have you been looking for a new dish to spice up your dinner rotation? Look no further, because today, we want to share with you a healthy and delicious recipe – Zesty Orange Chicken!
Of course, orange chicken is a classic. But with this recipe, you can ditch the takeout for a healthy and easy way to make this recipe at home. Use chicken, or swap it out a vegetarian or vegan substitute. And keep reading, because we have a secret ingredient that you won't want to miss! 
You will need…
– 1 1/2 cups Orange juice, freshly squeezed

– 2 tsp Rice vinegar

– 1/4 cup honey

– 1/4 cup soy sauce or coconut aminos

– 2 tsp minced garlic

– 1 tsp minced ginger

– 1/2 tsp red pepper chili flakes

– 1 tsp orange zest

– 1/4 tsp pepper

– 1 tbsp olive oil

– 1 lb chicken breast or thighs, cubed OR sub cauliflower for a plant-based option

– 1 tbsp cornstarch

– 1 tbsp water

– Green onion, sesame seeds, hot sauce, etc for garnish
All you have to do is…
Step 1: Make Your Sauce
Add orange juice, rice vinegar, honey, soy sauce or coconut aminos, minced garlic, minced ginger, red pepper flakes, orange zest, and pepper to a bowl. Mix to combine.
Step 2:
Cook the Chicken/Cauliflower
Add 1 tbsp of olive oil to a large saute pan over medium high heat. Add cubes of chicken (breast or thigh, whatever is preferred) or cauliflower to the pan, and cook for about 5-7 minutes. Add the sauce to the pan, and allow it to simmer in the sauce for an additional 10-15 minutes (depending on the size of your chicken or cauliflower pieces – thicker pieces may need longer to cook, while smaller pieces may need less). 
Step 3: Add the Cornstarch Slurry
Mix 1 tbsp water and 1 tbsp cornstarch in a small bowl. Make sure to mix well and get rid of any lumps. Add the slurry to the pan of chicken and orange sauce, and stir to combine. 
Step 4: Garnish!
Once the sauce has thickened, it is ready to serve! Take the mixture off the heat, and allow to cool for a few minutes before stirring in a few tablespoons of Purality Health Micelle Liposomal Vitamin C. Serve over rice, or on its own. Garnish with sliced green onions, sesame seeds, or a few dashes of hot sauce. Enjoy!
The Power of Vitamin C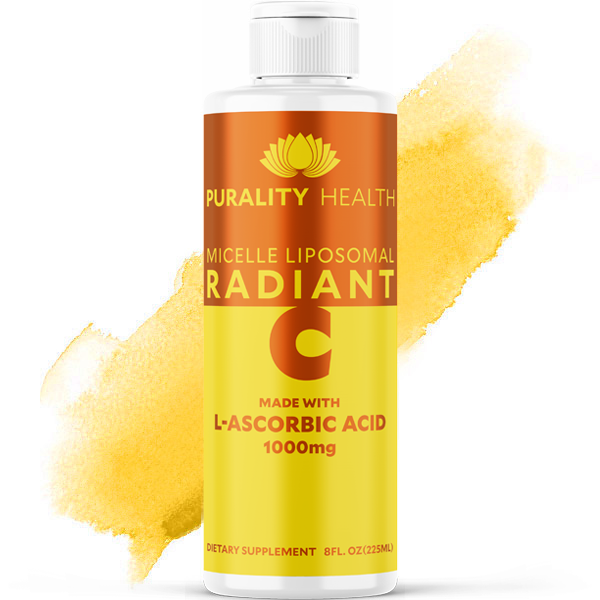 This recipe is not just delicious, it's packed with tons of vitamin C! While oranges are a great dietary source of vitamin C, you are going to optimize absorption by adding a dose of our Micelle Liposomal Radiant C to this recipe.
Vitamin C is a powerful nutrient, and it's important to ensure you're getting enough! By optimizing your vitamin C intake, you are: 
– Supporting a healthy immune system

– Helping your body fight against free radicals and oxidative stress

– Supporting the health and beauty of your hair, skin, and nails

– Aiding your body's response to stress
Our micelle liposomal formulation was designed with absorption in mind — and it tastes great! If you don't believe us, try this recipe!