Warm weather is finally here! And that means it's time to get outside and enjoy all of the wonderful things that summer has to offer. But while it's great to be able to enjoy the sun and warm temperatures, it's also important to be aware of the dangers of being too hot.
Did you know that being too hot can actually be bad for your health?
In this blog post, we'll explore why being hot isn't good for your health, plus we'll cover eight healthy ways to cool down this summer!
The importance of staying cool this summer
There are a few reasons why being too hot can be bad for your health.
First, when your body temperature rises, it can lead to dehydration. Dehydration can occur when you don't drink enough fluids or when you lose too much fluid through sweating. Even a small loss of body fluid can cause problems. When your body doesn't have enough water, it can't function properly. You may feel tired, dizzy, lightheaded, or experience headaches. You may also have trouble focusing or keeping up with physical activity.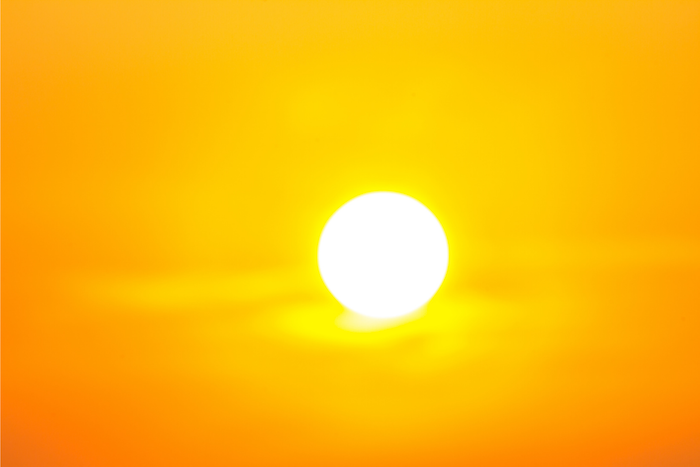 Second, being too hot can also make you more susceptible to heat exhaustion and heat stroke. Heat exhaustion is a condition that occurs when your body overheats and can't cool down. Symptoms include weakness, fatigue, nausea, and dizziness. If left untreated, heat exhaustion can lead to heat stroke, which is a potentially life-threatening condition.
If you experience these symptoms, it's important to get out of the heat and into a cool environment. Drink fluids (preferably water or an electrolyte-rich sports drink), and remove any tight or constrictive clothing. Loose, light-colored clothing will help you to stay cooler.
If your symptoms don't improve within 30 minutes, or if you experience a high body temperature (103 degrees Fahrenheit or higher), fainting, or confusion, you should seek medical attention immediately as these could be signs of a heat stroke. In the meantime, attempt to lower your body temperature by applying cool compresses to your skin or taking a cool bath.
Heat exhaustion and heat stroke are serious conditions that can be deadly if not treated quickly, so it's important to be aware of the symptoms and what to do if you or someone else experiences them. By taking precautions and being mindful of the dangers of extreme heat, you can stay safe and healthy all summer long.
So how can you stay cool this summer?
Seven healthy ways to stay cool
1. Drink plenty of fluids
It's no secret that staying hydrated is important, but did you know that different types of fluids can have different effects on your body?
In hot weather, for example, it's important to drink fluids that will help you to stay cool. Water is always a good choice, of course, but some fruit juices and vegetable juices can also help. Cucumber juice, for example, contains water and electrolytes that can help to replenish your body's fluids. Coconut water is another good choice, as it contains both potassium and sodium, which help to regulate blood pressure and prevent dehydration.
Conversely, there are some fluids that you should avoid in hot weather. Alcohol, for example, can cause dehydration, so it's best to save your cocktails for cooler evenings. Sweetened drinks can also be problematic, as the sugar can interfere with your body's ability to absorb fluid. So, next time you're looking to stay hydrated, be sure to choose the right type of beverage!
But that being said… 
2. Try a hot beverage
Believe it or not, hot beverages can actually be quite refreshing in warm or hot weather.
A 2012 study measured body temperatures in participants during exercise and found that those who drank hot water actually maintained the lowest body temperature and cooled down the fastest. [1]
Researchers believe that this is because the hot beverage stimulates sweat glands — our natural cool-down system — and allows us to cool down faster than we would otherwise.
In addition, hot beverages can help to relax your muscles and increase your blood flow. This can be a welcome relief on a hot day, when you may be feeling sluggish.
So next time you reach for a cold drink on a hot day, consider brewing up a pot of tea instead. You may just find that it hits the spot.
3. Take breaks
On hot days, it's important to take breaks in air-conditioned environments — such as shopping malls, libraries, or movie theaters — to stay cool and prevent heat exhaustion. 
When your body overheats, it can lead to a host of problems including dehydration, dizziness, headaches, and even muscle cramps. Taking a break in an air-conditioned space will help your body to regulate its temperature and prevent these issues. 
In addition, spending time in an air-conditioned environment can also help to reduce stress levels and improve your mood. So next time you're feeling hot and sticky, take a break in an air-conditioned space and enjoy the benefits of staying cool.
4. Take a cool shower or bath
When it's hot outside, there's nothing more refreshing than a cool shower or bath. Not only does it help you cool down, but it can also help to improve your circulation and relieve muscle tension. 
In addition, the cool water can help soothe sunburned skin. Taking a cold shower or bath is also a great way to wake yourself up in the morning or after a long day. And if you're looking to save on your energy bill, cooling down in the shower or tub is a much more efficient way to stay cool than cranking up the air conditioner.
5. Dress appropriately
When the temperature starts to rise, it's important to make sure that you're dressing appropriately. 
Wearing loose, lightweight, and light-colored clothing can help you stay cool and comfortable in hot weather. Loose clothing provides better airflow around your body, which can help keep you cooler. Lightweight fabrics are also more breathable than heavier fabrics, and can help to wick away sweat from your skin. And finally, light colors tend to reflect heat away from your body, rather than absorb it like darker colors do. 
If you're headed out on a hot day, be sure to reach for clothes that are loose, lightweight, and light-colored!
6. Slow down and avoid strenuous activity
When the temperature rises, it's tempting to head outside for a workout. After all, what better way to beat the heat than by breaking a sweat? 
However, there are some good reasons to avoid strenuous activity when it's hot outside. First of all, exercising in high temperatures can lead to dehydration and heat exhaustion. It's important to drink plenty of fluids before and during exercise, and to take breaks often to cool down.
In addition, people with certain medical conditions such as heart disease or diabetes are at increased risk for complications from heat exposure. Either way, if it's a hot day, it might be best to take it easy and stay cool indoors.
7. Stay in the shade when possible
Staying in the shade on hot days is not just about keeping cool – it's also about protecting your skin. 
Ultraviolet (UV) radiation from the sun can damage your skin in as little as 15 minutes, and over time, this damage can add up. UV radiation is a risk factor for skin cancer, and it can also cause premature aging and other skin problems. Luckily, there are easy ways to protect yourself from the sun's harmful rays. 
When you're outdoors, seek out shady areas, and make sure to wear sunscreen with an SPF of at least 15. Covering up with clothing is also a good idea, since UV light can penetrate through even thin fabrics. So next time you're planning a day in the sun, don't forget to put safety first and stay in the shade.
8. Check the local weather forecast
Whenever temperatures start to climb, it's important to keep an eye on the local weather forecast. If a heat advisory has been issued, that means the weather is going to be extremely hot and humid, and it's important to take extra precautions. 
By following the simple tips outlined in this blog, you can help stay safe and comfortable during periods of extreme heat.
Another danger of hot days…
While the sunlight is a wonderful thing, there's a reason we're told to soak it up in moderation and to wear sunscreen, hats, and sunglasses.
When the ultraviolet (UV) light from the sun hits the cells of your skin, it kills them by damaging their DNA. 
As such, exposure to UV rays can cause premature aging of the skin and signs of sun damage such as wrinkles, leathery skin, liver spots, actinic keratosis, and solar elastosis. UV rays can also cause eye problems.
So what can we do?
Well, as mentioned before, it's important to wear sunscreen, take breaks in the shade, and take other precautions to ensure that your skin isn't taking in too much of these UV rays. 
But if you really want to offer better protection for your skin…
Vitamin C can help.
See, vitamin C is found in high levels within your skin. As we age, these levels decrease, and your skin becomes less protected against sun damage and other factors that affect skin health. This is because vitamin C is a powerful antioxidant that neutralizes free radicals – unstable atoms within the body that cause damage to your skin and other organs. 
Thankfully, research has shown that when you take vitamin C, the concentrations of the nutrient within the skin increase. [2, 3]
But UV light exposure actually depletes the level of vitamin C within the skin, even though – when exposed – your body begins sending more vitamin C into the skin. [4, 5]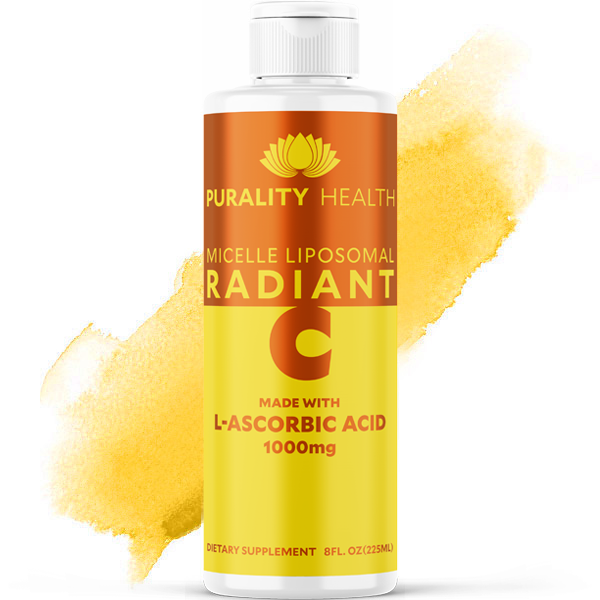 It's a battle going on within your skin to keep it protected and healthy from the sun's damage.
Don't let enjoying the sunlight damage and age your skin. 
Send in a high quality vitamin C so that your skin can be better protected.
Purality Health's Micelle Liposomal Vitamin C is an all-natural and delicious vitamin C that is specially designed for enhanced absorption.
This means your body can actually take the nutrient in and use it, sending it to where it's needed most – like the skin. 
To see ingredients, reviews, and how you can save up to 25% today…