Chia seeds are small black or white seeds from the plant Salvia hispanica L., thought to be native to Central America. 
They were a staple to the Aztec and Mayan civilizations, used in their diets and religious rituals, as well as cosmetically and medicinally. Today, chia seeds are enjoyed all across the world. 
Considering their size, these little seeds pack quite a nutritional punch! That's why today we're going over seven incredible reasons to eat chia seeds.
1. They're loaded with nutrients
The ancient civilizations that utilized chia seeds did so because they believed that they were highly nutritious. Since then, science has confirmed this. In fact, just two tablespoons of chia seeds contains: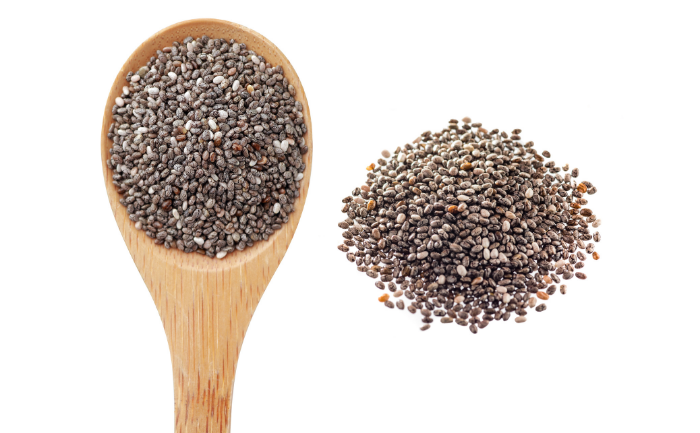 Calories

– 138

Protein

– 4.7 grams

Fat

– 8.7 grams 

Alpha-linolenic acid (omega-3)

– 5 grams

Carbs

– 11.9 grams

Fiber

– 9.8 grams

Calcium

– 14% of the Daily Value (DV)

Iron

– 12% of the DV

Magnesium

– 23% of the DV

Phosphorus

– 20% of the DV

Zinc

– 12% of the DV

Vitamin B1 (thiamine)

– 15% of the DV

Vitamin B3 (niacin)

– 16% of the DV
That's a lot of nutrients in only two tablespoons! [1]
2. They contain a ton of antioxidants
Free radicals are unstable atoms that form in the body and cause oxidative stress. This damage can lead to a host of health issues. Fortunately, we have antioxidants to neutralize these atoms and minimize oxidative stress. 
Chia seeds are an excellent source of antioxidants. The types of antioxidants in chia seeds include chlorogenic acid, caffeic acid, myricetin, quercetin, and kaempferol. On top of ridding the body of free radicals, these can all help protect the heart and liver, and may lower the risk of certain health conditions. [2]
3. May help with weight loss
Chia seeds may be able to help those looking to lose weight for two reasons.
The first is due to their incredibly high fiber content. Most of the fiber in chia seeds is soluble fiber. When digested, chia seeds absorb water, form into a jelly-like substance, and help you feel full for longer. [3, 4]
Research suggests that soluble fiber can help regulate appetite and in turn support weight loss. [5]
The second reason why chia seeds may be able to help with weight loss has to do with their high protein content, as some research suggests that it can help regulate appetite and food intake. 
One study found that including chia seeds in participant's breakfast led to feelings of fullness and reduced food intake. [6]
However, the research is a bit of a mixed bag when it comes to chia seeds and weight loss.
For example, one study had overweight participants consume chia seeds daily for twelve weeks and found no difference between them and the placebo group, where a similar six month study found that those eating chia seeds daily saw a significantly greater reduction in weight over the placebo group. [7, 8]
4. Supports heart health
The high fiber content of chia seeds can help the health of the heart. The type of fiber found in chia seeds can help lower LDL (bad) cholesterol, keeping your blood vessels functioning properly. [9]
The type of omega-3 fatty acid found in chia seeds is also beneficial for the heart. Alpha-linolenic acid (ALA) has been found to help lower the risk of cardiovascular issues. [10]
Additionally, magnesium deficiencies have been attributed to heart complications. [11]
Animal studies have found that magnesium can help lower heart issue risk factors, including high triglyceride and oxidative stress levels. [12, 13]
Human studies have found that chia seeds can help lower high blood pressure, a precursor to heart problems. [14, 15]
5. Helps maintain bone health
Many of the nutrients in chia seeds are beneficial to the health of the bones, such as calcium, phosphorus, and magnesium.
Studies indicate that maintaining regular levels of these nutrients are important for keeping good bone mineral density, a mark of healthy bones. [16, 17]
On top of that, ALA has been found to help increase bone mineral density as well. [18]
Because of these factors, regular consumption of chia seeds may help support bone strength.
One animal study found that rats that were fed chia seeds daily had increased bone mineral content than the rats in the control group. [19]
6. May regulate blood sugar levels 
Consistently high blood sugar levels are associated with several health complications.
Due to their high fiber content and rich nutrient profile, consuming chia seeds can help reduce blood sugar levels. 
Animal studies have found that regularly eating chia seeds may improve insulin sensitivity, which can help stabilize blood sugar levels. [20]
Research in humans showed that eating bread with chia seeds in it helped lower post-meal blood sugar levels in healthy adults. [21, 22]
7. They're easy to add to your diet
The good thing about chia seeds is that they don't really have a taste. This makes them perfect for sneaking into recipes. 
You can sprinkle them onto salads, cereals, yogurts, or rice dishes. You can add them to smoothies, oatmeal, baked goods, and more. On top of that, due to their ability to absorb liquid, you can use them to thicken sauces, create an egg substitute, or soak in juice for a flavorful treat.
For a simple, yummy, and nutritious chia pudding, add two tablespoons of chia seeds into a jar with 1/2 cup of your favourite milk and — if you'd like — one teaspoon of sweetener (like honey or syrup). Stir it well, close or cover the jar, then refrigerate it for at least two hours so that the seeds can absorb the milk. Then, top it with your favourite fruit and enjoy!
Something else that is easy to add to your diet that can have a huge impact on your health is our tasty, liquid Micelle Liposomal Turmeric. 
It can be taken as is, added to recipes, juices, smoothies, and more!
>>> Click here to see the many ways absorbable turmeric can support your health
References and Resources: