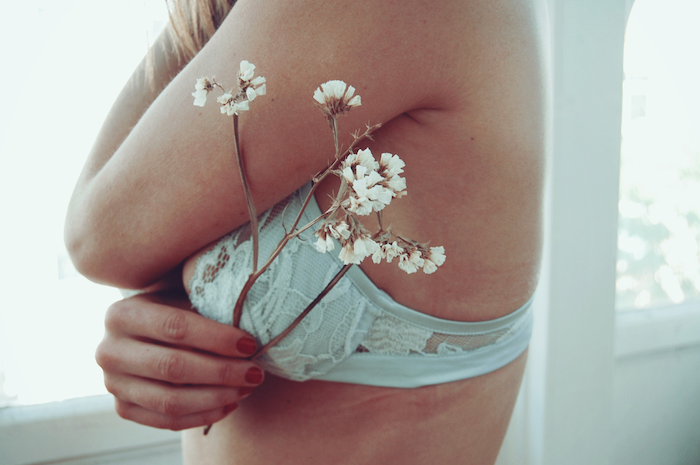 Breasts are made up of different types of tissue. And, as most tissue does, breasts sag over time. There are many different ideas out there surrounding how to combat loss of breast perkiness – from soaking your breasts in cold water to "breast workouts". Unfortunately, none of these techniques are effective and there's no way to fully prevent your breasts from sagging. 
But something can slow it down…
See, when the tissue in breasts sag, it's called "ptosis". Breast ptosis is typically due to two factors: a reduction in the volume of breast tissue, changes in the supporting ligaments, or both. This is why "breast workouts" don't make your breasts bigger or more firm – there's no muscle tissue in breasts.
Collagen is the major structural protein in our bodies. But it wears out and depletes over time due to several aspects of our environment. This loss of collagen results in a decrease in tautness of ligaments throughout the body, including those which support the breasts. 
As such, there are a few things that can accelerate breast ptosis, as well as slow it down. 
Below, we'll cover ten causes of sagging breasts, along with the number one thing you can do to slow it down.
10 causes of sagging breasts
The severity of breast ptosis is determined by the position of the nipple with respect to the breast fold. Breast ptosis is diagnosed when the position of the nipple is on the same line or below the breast fold. 
Breasts come in many shapes and sizes. No matter what they look like, we hope you love your breasts. But if you're looking for ways to keep them as firm as possible for as long as possible, consider the ten things listed below.
1. Age
Breast sagging is simply a natural part of aging. As such, age is the most common cause of sagging breasts. Not only does the reduction in estrogen levels as we age contribute to sagging, but the older you are, the more likely you are to have experienced many of the points listed below.
2. Genetics
Though some things on this list are in your control, when and how your breasts sag can simply just come down to genetics. 
Genetics play a large role in determining whether your breasts will sag since the production of elastin and collagen fiber proteins is regulated by DNA.
3. Heavy breasts
Thanks to gravity, the larger your breasts, the more likely they will sag. This is because the larger weight means there is a greater gravitational force operating on them. 
4. Weight changes
Sudden changes in weight – either up or down – can contribute to breast ptosis. A rapid increase in weight can cause breasts to grow heavier and droop. A rapid decrease in weight can cause a loss of fat tissue that supports the perkiness of the breasts.
5. Pregnancy
Because of the growth that occurs in breasts during pregnancy, along with the production of milk, breasts may be more prone to sag following pregnancy. This is especially true for multiple pregnancies. The stretching that occurs within the breast can wear down the ligaments, causing them to droop. 
6. Smoking
Smoking is well-known to cause not just dropping in the face, but the breasts. This is because cigarette smoke contains free radicals – unstable atoms which damage and wear down the fibrous proteins found in, among many other places, the breasts. This lowers the elasticity of the breasts, leading to sagginess. 
7. Lack of support
If your breasts don't have proper support, they can sag as gravity takes its toll on them. However, too much support can weaken the breast ligaments and result in early sagging. It's best to wear a supportive bra throughout the day, then remove it at night or while relaxing at home. 
8. Exercise
Extensive exercise can cause excessive movement in the breasts which can wear down tissue and ligaments, resulting in sagging. If you're going to be exercising, it's best to wear a fitted sports bra to keep your breasts supported.
9. Nutritional deficiencies 
If you're low on certain levels of nutrients like vitamin C or biotin, you could be at an increased risk of breast ptosis. This is because both of these vitamins contribute to the production of the fibrous proteins which make up your breasts. And, speaking of… 
10. Collagen deficiency
As mentioned above, breasts are supported by strong, elastic fibrous proteins. Collagen is one of these types of proteins and is a major component of what makes not just breasts perky and supported, but all of your skin plump and elastic. 
With age, our collagen levels naturally deplete and our body struggles to maintain a proper amount of this protein. As such, our tissue loosens and wrinkles. This is especially true for the firm tissue within the breasts.
Restoring and maintaining collagen levels can reduce sagging
Many things deplete collagen levels…
Stress…

Age…

Processed foods…

Sugar…

Cigarettes…

Alcohol…

UV exposure…

And so much more.
Your body is constantly fighting to create more collagen. But it can't keep up, and as a result, much of the collagen it does create isn't as tough or elastic as the collagen of your youth.
But if you provide your body with collagen (especially collagen it can actually take in and use!) your body doesn't have to fight nearly as hard. And the tissue within your body – including your breasts – can be better supported. 
But not just any collagen will do.
If you want to find out the BEST way to get collagen and to see one woman's journey with it…