Your Gift is Here!
Access your FREE box of Probiotic below.
($54.00 value – Yours Free While Supplies Last)
QUALITY ASSURED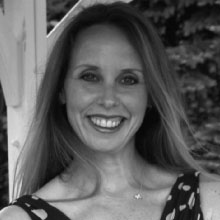 "The human body has a ringmaster. This ringmaster controls your digestion, your immunity, your brain, your weight, your health and even your happiness. This ringmaster is the gut"
Nancy S. Mure - PhD, Board Certified Holistic Nutrition Practitioner
Good vs Bad Bacteria: Finding Your Perfect Balance
The Human Gut is a Fascinating Place...
Aside from helping you digest crucial nutrients from your food, your gut is home to the
microbiome -

trillions of ever-changing, symbiotic bacterial cells. [1]

did you know?
"The average person has the SAME number of bacterial cells in their body as they do human cells!" [2]
Why is the Microbiome so Important?
Research suggests that the balance between '
GOOD

' & '

BAD

' bacteria in the gut can have SIGNIFICANT implications when it comes to the strength of the immune system & our quality of life.
Unfortunately, many of us are out of balance...
Rhamnosus: The Secret to a Happy Gut?
The Tiny Microbe Taking the Wellness World by Storm
L. Rhamnosus (sometimes referred to as Lactobacillus GG or LGG) is a strain of Lactobacillus Bacteria (one of the good guys).
First isolated in the 1980's, it's now one of the most widely used and studied probiotic strains, and has well documented efficacy in supporting health & wellbeing.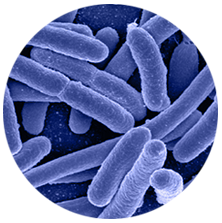 Here's What the Latest Science Has to Say About the Power of Rhamnosus:
jump Ahead to LEARN MORE ABOUT RHAMNOSUS AND...

Gut Health

Immune Function

Child Development

Allergies

Mental Health

Weight Loss

Delivery Technology
There's Just ONE Issue:
Not ALL Probiotics Are Created Equally...
Unfortunately, some
conventional

Probiotic Supplements present a range of

obstacles

that may

prevent

you from getting the

results

you desire.
Here's the lowdown...
Probiotic Problems
(And the Purality Health® Difference)
Conventional Probiotics
Purality Health® Rhamnosus
Often contain a range of probiotic strains which can compete with each other in the gut, limiting their effectiveness.
We use a very specific, highly potent, targeted bacterial strain backed with a TON of scientific research.
Can often be low strength, not enough to get an effective response.
A high-strength strain, combined with a unique, protective delivery mechanism.
Some bacterial strains are well studied, but there are strains used in some conventional probiotic blends without a deep body of scientific evidence supporting their efficacy.
Rhamnosus is well tested & safe. A 2010 paper confirmed "use of LGG in a wide variety of clinical trials without serious adverse events confirmed its safety."[11]
* Probiotics are delicate live bacteria – they can die during high heat processing, during the packaging process, transport or on the shelves of the secure. Purality Health® Liposomal Probiotic is Protected by the Lactoferrin Bond, so you can be assured you'll get all the benefits!
Our Patented RcME technology shields the probiotic from the harsh environment found in the gut. This means you get less waste, higher bioavailability, and more for your money.
Let's Take a Closer Look at Our
BREAKTHROUGH Probiotic Delivery Technology...
Introducing R
c

ME Delivery

"Helping you get the most out of your probiotic"

Lactoferrin is an iron-binding protein found in milk. Its unique affinity to iron allows it to bind closely to the nutrient.

Aside from that, it's also an antimicrobial, anti-pathogen and anti-bacterial compound that improves survival rateS of probiotics.

Our unique RcME Delivery Technology takes the power of Lactoferrin to supercharge the bioavailability of your probiotics.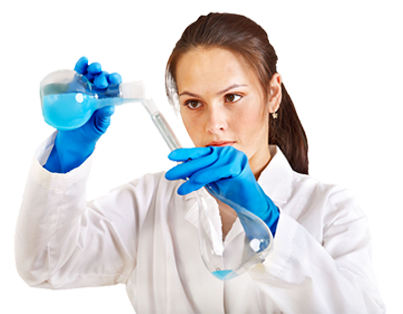 Here's EXACTLY How Our RcME Delivery Works:

STEP one
Emulsion Formation
STEP 1
Formation of the protective Emulsion
Firstly, a protective emulsion is produced by conjugating Lactoferrin to Rhamnosus under high pH conditions.
It's homogenized with an excipient, oil and emulsifier under low pressure and mild heat, then cooled to form a small, protective particle containing the Lactoferrin-Rhamnosus combo.

STEP two
Receptor Cell Mediated Endocytosis (RcME)
STEP 2
Double The Protection With Receptor Cell Mediated Endocytosis (R
c

ME)

By binding Rhamnosus to Lactoferrin, the probiotic becomes much more stable.

The human gut is a notoriously hostile environment, and often destroys probiotic strains before they can be absorbed.

Lactoferrin combined with RECEPTOR CELL MEDIATED ENDOCYTOSIS surrounds the Rhamnosus with healthy lipid-bilayers, protecting it from the absorption barriers in the gut, and keeping it safe and sound.

STEP THREE
Probiotic Delivery
STEP 3
Probiotic delivery
Now shielded from harsh stomach acids, the Lactoferrin-Rhamnosus combination SAFELY PASSES THROUGH to reach the gut lining. Purality Health's Probiotic Liposomal Lactoferrin combination not only targets the gut lining, but also promotes colonization of probiotics in the gut, while helping eliminate bad bacteria.
Here, the protective bi-layers slowly begin to peel away, and the beneficial probiotic and lactoferrin are enveloped directly into the gut lining.
Rhamnosus & Lactoferrin can be delivered
safely to the GUT MICROBIOME

- exactly where they are needed most!
And that's not all...
Aside From Improving Probiotic Delivery & Availability, Lactoferrin Has a Number of Other Potential Benefits
balancing overall gut flora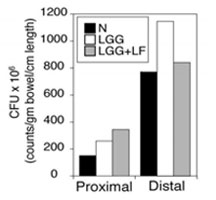 Lactoferrin on its own has been shown to positively impact the growth of good bacteria.
A 2005 study concluded: "Lactoferrin limits the availability of iron to bacteria in the intestines, allowing only the beneficial bacteria to thrive"[34]
Keeping bad bacteria at bay
As well as improving absorption and survivability of GOOD bacteria, a 2010 study showed that lactoferrin can effectively reduce the number of BAD bacteria in the gut[35]
Lactoferrin & Rhamnosus = Supercharged Probiotics
GUARANTEED SATISFACTION (OR YOUR MONEY BACK)
Backed By Our 180-Day Money Back Guarantee!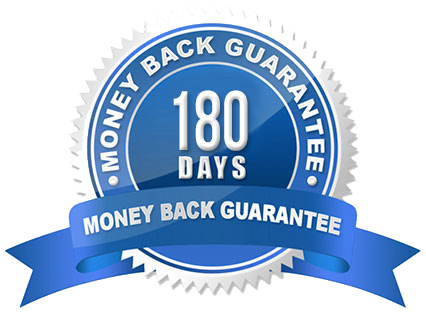 We want to see you thrive, and we also believe, "Happy Customers" are the best advertising.
So that means if you're EVER unsatisfied with anything you buy from us here at Purality Health®, you have a full 180-days to try it out, during this time you can return any unused portion for a full refund.
Order today and try it out for yourself. If you don't notice a huge shift in the way you feel, just let us know you weren't satisfied and we'll send you a 100% refund on your order.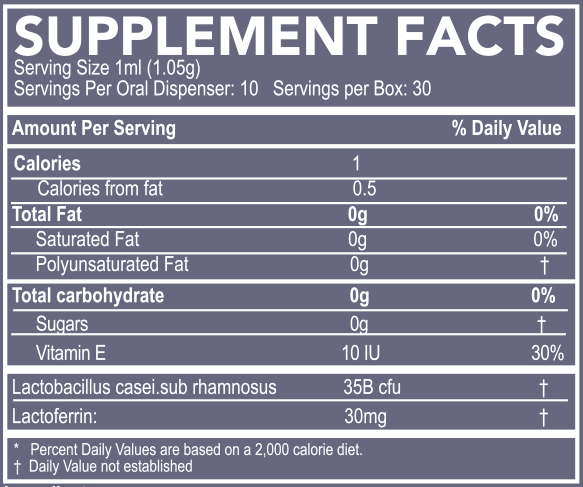 † These statements have not been evaluated by the Food and Drug Administration. This Product is not intended to diagnose, treat, cure or prevent any disease.
INGREDIENTS: Glycerin, Lactobacillus casei. sub rhamnosus, Lactoferrin, Sunflower Phosphatidylcholine (Phospholipids used to process liposomes), Oleic Acid (from olive oil), Medium Chain Triglycerides as (C8 and C10), Vitamin E (as Alhpa Tocopherol) and Orange oil (Natural Flavor).
DOES NOT CONTAIN: GMO, MSG, Gluten, Whet, Soy, Yeast, Lactose or Milk.
PRODUCT CONTAINS: Dairy from Lactoferrin.

CAUTION: Do not exceed recommended dose. Pregnant or nursing mothers, children under the age of 18 and individuals with a known medical condition should consult a physician before using this or any dietary supplement.
KEEP OUT OF THE REACH OF CHILDREN. STORE IN A COOL DRY PLACE.
Give Your Gut the Support it Needs Today
Access your FREE gift below
1 x Box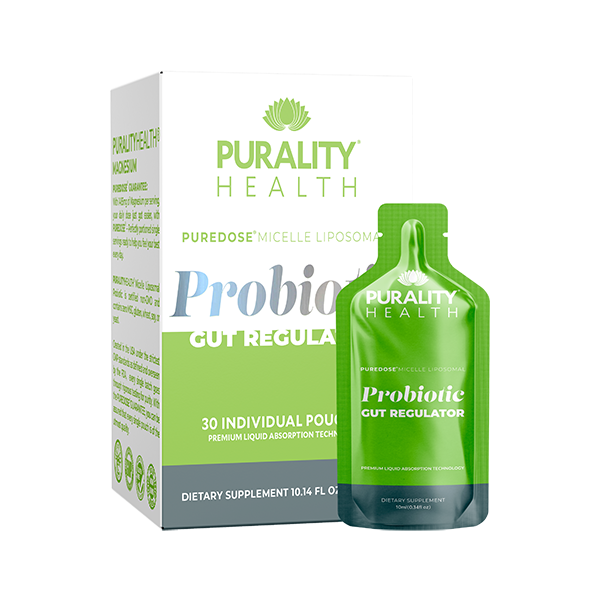 $54 / Box


3 x Boxes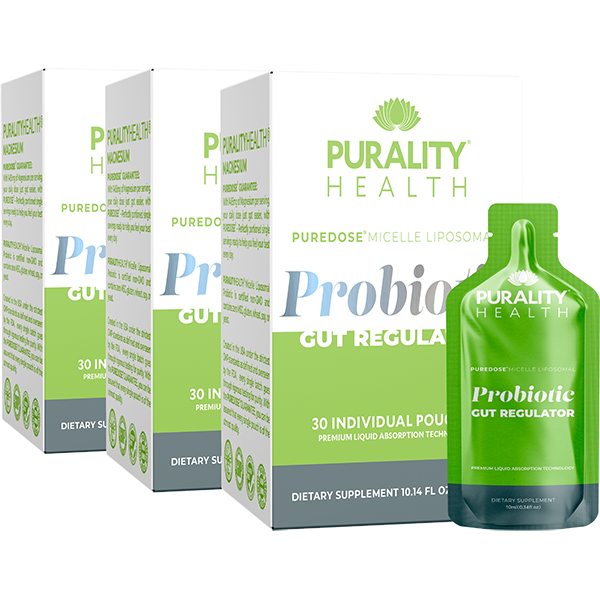 $45.90 / Box
15% off


6 x Boxes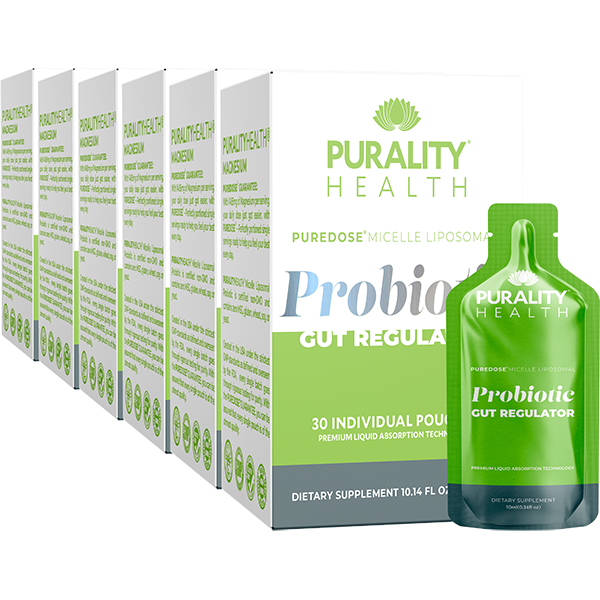 $40.50 / Box
25% off