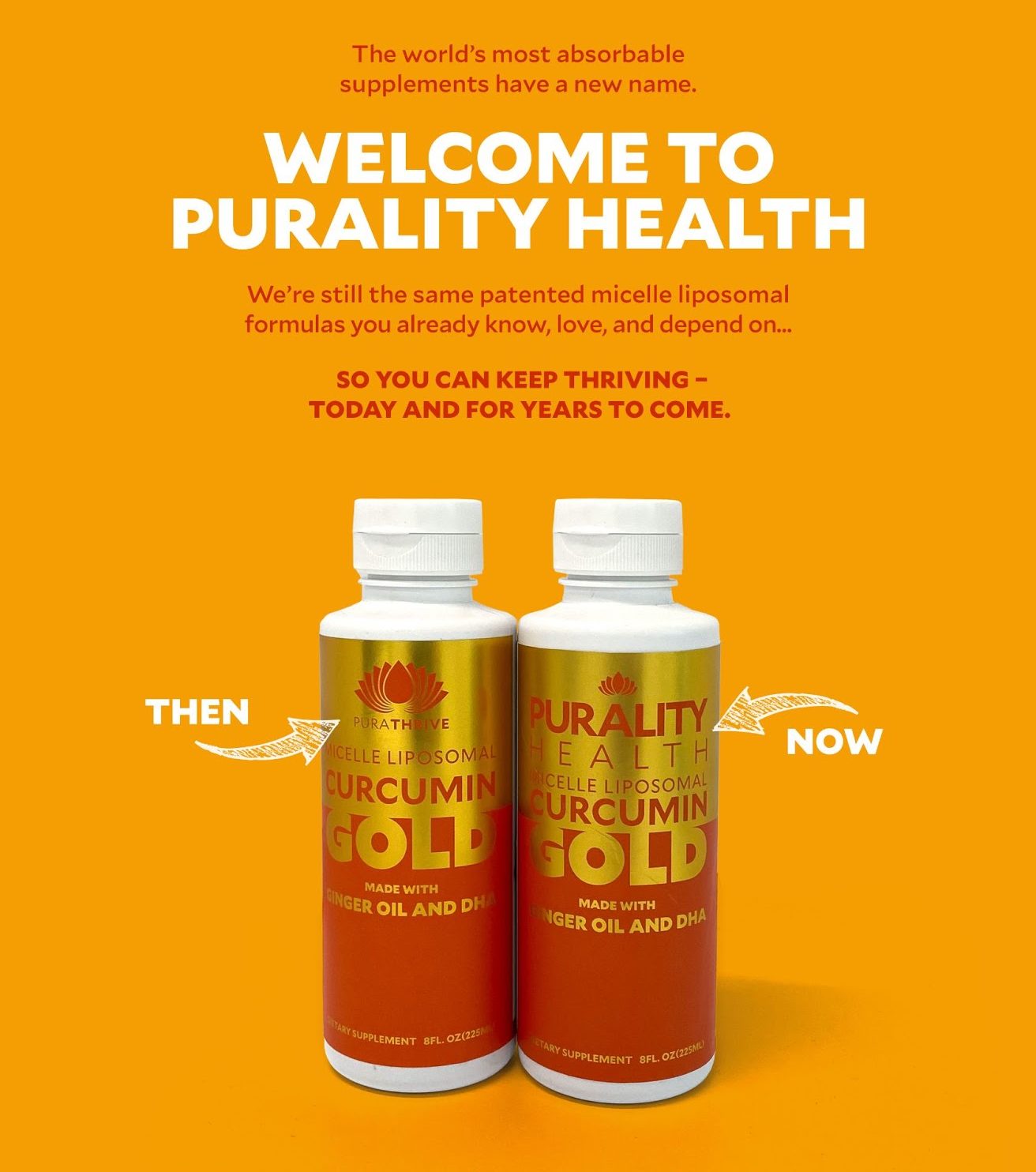 It's official! We have changed our name from PuraTHRIVE to Purality Health!
As a loyal customer, you already know our patented formulas are the most absorbable supplements on the market.
But did you also know that we were the FIRST company to use that groundbreaking micelle liposomal technology with vitamins?
It's true!
In 2015, we became a true pioneer in producing a 'pure dose' – when every single serving delivers essential nutrients straight to your cells, right where they're supposed to go.
Today, our powerful absorption technology – that happens to be backed by over 100 patents and 1000s of scientific studies – is still unrivaled.
We are the BEST at making sure fragile compounds (like water soluble vitamins) actually make it past your harsh digestive process and into your bloodstream…
Where they are able to do their job — help supercharge your health and vitality so you can THRIVE.
Over the last 6 years, we've dedicated ourselves to helping you – and over 185,000 others – live better, longer. Of course, we will uphold that mission for decades to come, but now…
We're committed to doing MORE.
We don't only want to be known as the leading name in micelle liposomal technology, we also want to become your trusted go-to source for health information and inspiration.
We want to reach 1000s more people and do whatever we can to help them lead healthier lives.
We want to do better, do more, and simply put – stand out.
So as we create more content, more resources, and more products for you, we hope you embrace our new name as PURALITY HEALTH.
In the meantime, please know:
Absolutely nothing about our patented micelle liposomal products will be changing! They will remain the same great formulas you know and love. You'll just see a new label.
You don't need to update anything – including autoships or email addresses – none of that will be impacted in any way!
PURALITY HEALTH will be owned and operated by the exact same team as PuraTHRIVE – meaning no upcoming disruptions or policy changes.
Our incredible customer care team will remain the same, so the same great people you call or email for help will still be available and excited to serve you.
BOTTOM LINE: The world's most absorbable supplements have a new name – PURALITY HEALTH. While we won't be called PuraTHRIVE anymore, you'll continue to get the exact same quality products you know, love, and depend on…
So you can keep thriving, today and for years to come!
As always, we're here to support you and answer any questions you may have.