Learn how you can harness the 5 MOST POWERFUL BRAIN-BOOSTING MUSHROOMS with rich chocolatey fudge…
Buy One Bottle
Get One FREE
Plus, Free Shipping FOREVER!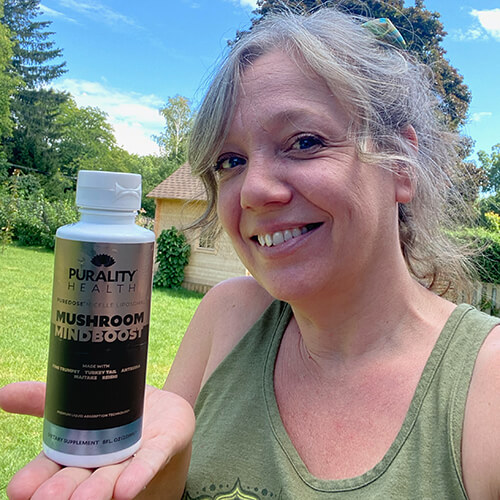 "Oh my goodness, Micelle Liposomal Mushroom Mindboost is so thick and luscious with chocolatey creaminess – I look forward to each morning when I can get another tablespoon and lick it slowly off the spoon. Knowing I am also giving my brain a boost with the mushrooms is best of all!!!"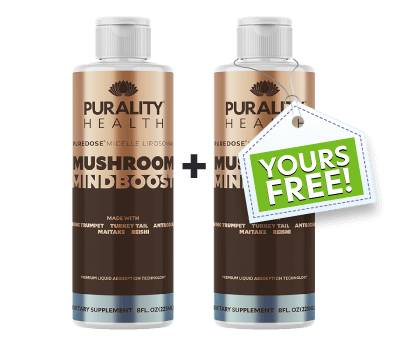 Stop Choking Down Brain Support Pills And Capsules
This NEW brain-boosting chocolate fudge is totally different from useless, old-fashioned pills and capsules…
It contains 5 of the most POWERFUL medicinal mushrooms that support brain health and cognition, including: Turkey Tail, Antrodia Camphorata, Reishi, King Trumpet, and Maitake.
Even better, it turns your smoothie, yogurt, or ice cream into a delicious chocolatey mind-boosting treat!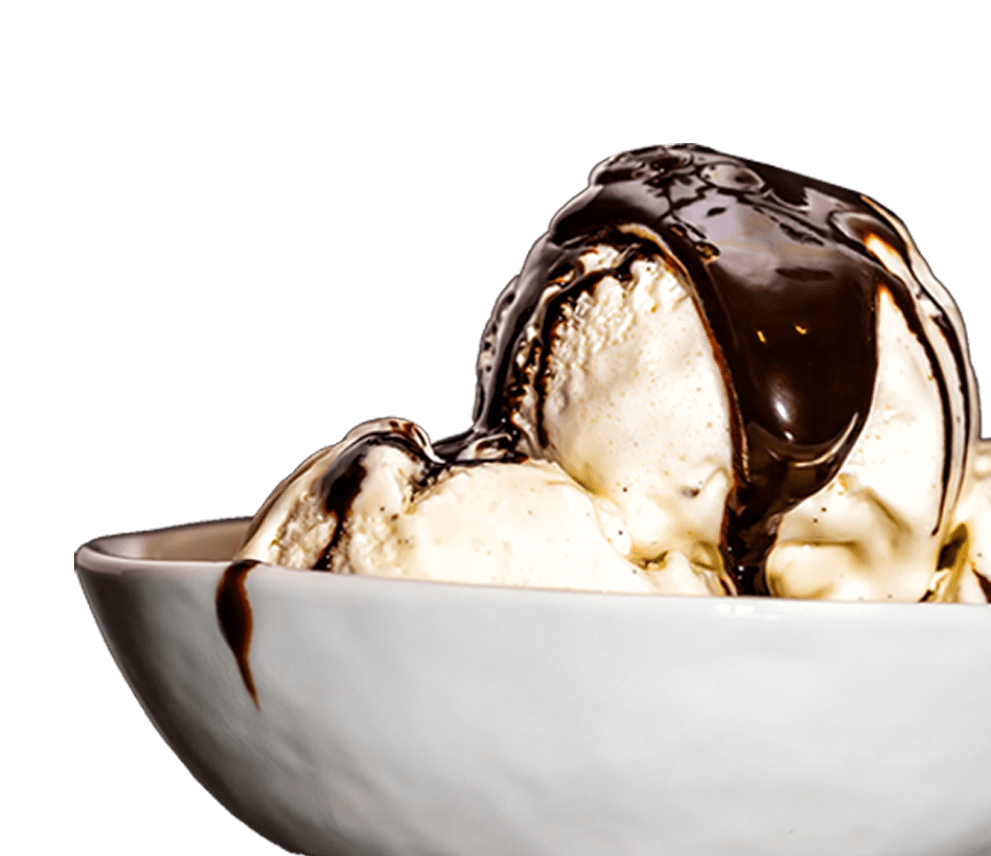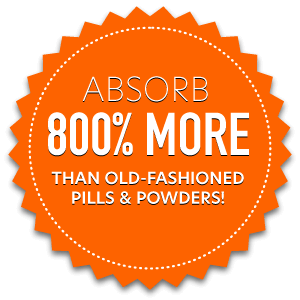 Discover the scientifically proven treat that clears the brain fog, fine-tunes memory, and promotes longevity…
In just a few weeks!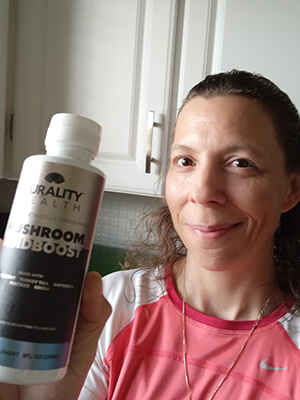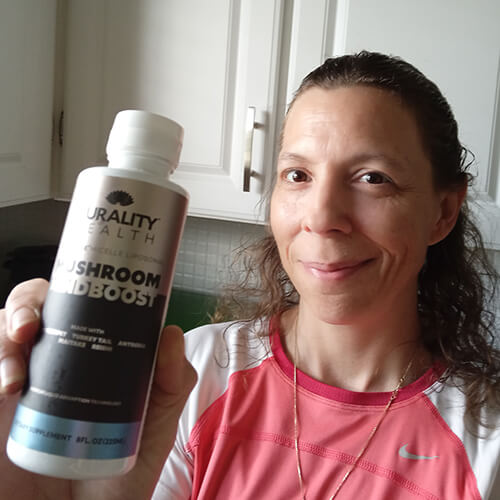 ---
"I have been using Mushroom Mindboost just short of a month. I have some brain degeneration, which is the main reason I am using this product. I know these mushrooms are doing good things for my body. I take a tablespoon in the morning with my coffee, straight up. It tastes very good. Will keep using."
---
Unfortunately already facing some issues with memory, Bridget understands the importance of protecting the brain. This is why she took action and started giving her body a highly absorbable dose of the best brain-boosting mushrooms and the dozens upon dozens of beneficial compounds they contain. Now, just a few short weeks later, she can already feel the difference in her mind and body!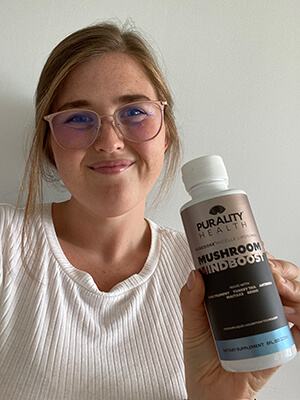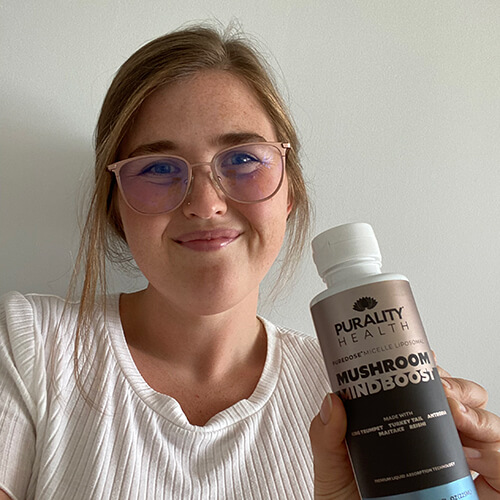 ---
"I look forward to taking the Mushroom Mind boost supplement every day. It's delicious tasting and I feel an improvement in my cognitive ability after just several weeks."
---
Nancy loves to take her Mushroom Mindboost every day, and it's not just for the delicious chocolate taste, but the amazing benefits. In only a matter of weeks, Nancy is feeling more spry, attentive, and all around happier thanks to the cognitive-enhancing compounds within these five incredible mushrooms.
Hear what real customers have to say:
"This has been an absolute game changer for me... All these mushrooms have high amounts of essential nutrients that promote the health of your brain as well as supporting your heart and immune system... Plus get this, it literally tastes like chocolate syrup! "
"Mushroom MindBoost has been replacing coffee and other stimulants I've been using. I'll tell you what, I feel more on top of my game. More focused when I'm doing my work. And energy throughout my day than ever before... The other thing I love about this product is how good it tastes! It tastes like a chocolate fudge. And it's also very easily absorbed into your bloodstream."
"This is how I use my Mushroom MindBoost. I take a glass of cold brew coffee. I put in a tablespoon of my Mushroom MindBoost. Top it off with some oat milk. And blend. I like Mushroom MindBoost because it's delicious and supports my brain health. Thank you, Purality!"
Here's Why
Mushroom Mindboost

is Superior
If you've ever bought mushroom supplements from a health food store, supermarket, or most places online, chances are you have a useless supplement sitting in your medicine cabinet.
See, most mushroom supplements have two issues:
ISSUE #1
They are "naked" — meaning the mushroom compounds are unprotected from the boiling acid of your stomach, which destroys most of them before they can be absorbed.
ISSUE #2
They are made of giant nutrients — meaning they are encapsulated in such a form that is too big to squeeze past your small intestine wall, hindering absorption.
Mushroom Mindboost

is completely different
It's "packaged" with much smaller nutrients, so your body soaks in up to 800% more!
FIRST: The mushroom compounds are encased in micelles. Think of micelles as a protective barrier that wraps around the compounds to protect them from stomach acid during digestion.
SECOND: The micellized mushroom compounds are further wrapped in liposomes. Liposomes form the same type of fat (phospholipids) as cell membranes. This makes the nutrients recognizable by the body and welcome for absorption.
THIRD: The mushroom compounds (within the micelles and liposomes) safely travel through the harsh digestive tract and arrive in your gut fully intact. The nutrients are then absorbed through the intestinal wall and are deposited directly into the bloodstream.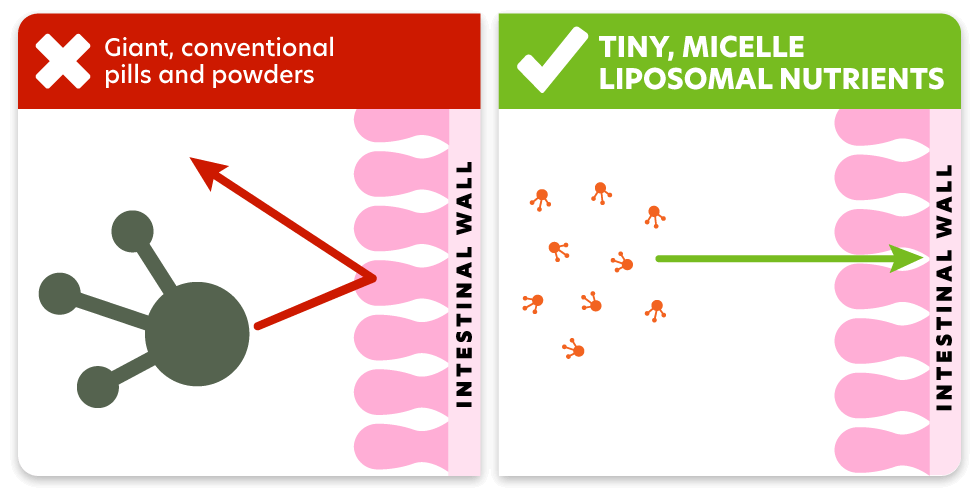 FINALLY: Your body gets a powerful dose of these mushrooms along with the countless health benefits that come with them like improved memory, increased energy, boosted immunity, and so, so much more!
Here's why people rave about
Mushroom Mindboost
SATISFIES YOUR SWEET TOOTH
NO BITTER or "Earthy" AFTERTASTE
TASTES DELICIOUS RIGHT OFF THE SPOON
In fact, the members of our Purality Health community LOVE our Mushroom Mindboost so much because…
"It's luscious, thick, and chocolatey!"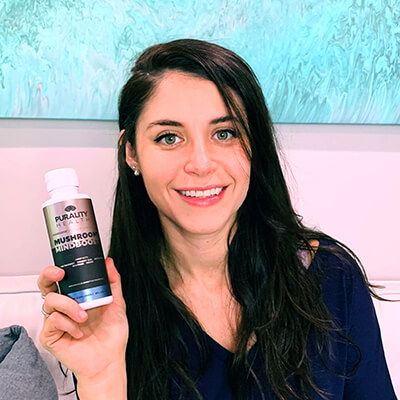 "Micelle Liposomal Mushroom Mindboost is the best tasting supplement ever – luscious, thick, and chocolatey – look forward to my morning tablespoon!"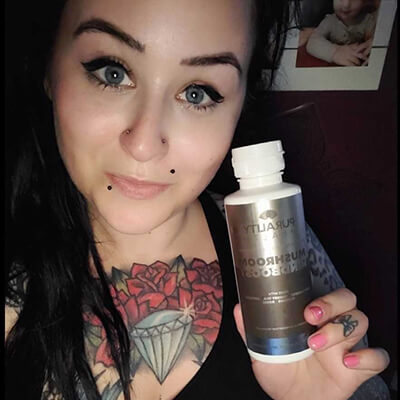 "This is the best tasting mushroom supplement I have ever tasted. The ingredients enhance the chocolatey flavor. I love the addition of almond butter, one of my favorite foods. Highly recommend you try this unique product to pump up your wellness regimen."
Not only does Mushroom Mindboost taste amazing, but it's:
…And contains

NO artificial flavorings or preservatives.
With just ONE spoonful a day, you can…
Help grow new neurons in your brain and repair existing ones
Protect against neurodegeneration and improve memory
Reduce proteins that contribute to brain plaque
Improve memory, mood, and mental clarity
Protect your brain from oxidative stress and inflammation
Feel energized and ready to tackle each day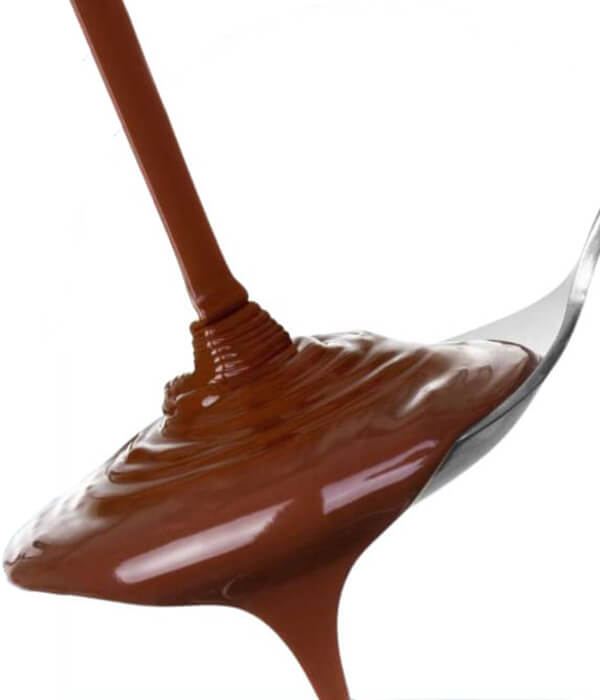 How Your
Buy One Bottle, Get One FREE

Offer Works:
Plus, Free Shipping FOREVER!
Buy One Bottle Get One FREE
Buy one bottle of Mushroom Mindboost and receive an additional bottle for FREE! It's that simple.
Receive FREE SHIPPING for LIFE
If you're located in the United States or Canada, you will receive FREE SHIPPING forever through this special offer. No hidden fees.
Access Exclusive Purality+ Membership
With your purchase, you automatically become a Purality+ member! With your Purality+ membership, Mushroom Mindboost will be delivered straight to your door every single month. You can cancel or adjust your shipment frequency at any time.
Plus, you get added perks like:
20% OFF coupons on your 1-year anniversary
FREE ebooks every season
Early-bird access to our sales and new products before anyone else
Surprise freebies
A dedicated customer care team, ready to serve you!
Here's What's Inside
Mushroom
Mindboost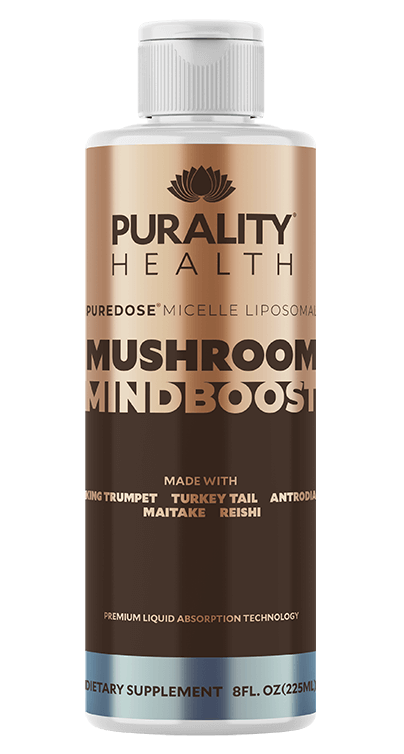 Turkey Tail Mushroom:
These disc-shaped, multi-colored mushrooms grow naturally on both standing and fallen trees. They contain nutrients which help grow new neurons in your brain and repair existing ones. They also help protect your brain from oxidative stress and inflammation, two things that are linked to age-related cognitive decline. Finally, they help regulate your gut bacteria, which is important for overall health and has a huge impact on brain function.
Antrodia Camphorata:
Unique to Taiwan, these stout mushrooms are loaded with compounds that have neuroprotective effects. They are a rare and highly valued medicinal mushroom mostly thanks to their antioxidant and anti-inflammatory nutrients, which can improve cognitive function and protect the brain from damage, among many other benefits.
Reishi Mushroom:
These rich mushrooms have been used for centuries in traditional Chinese medicine for their health-promoting properties, including for brain health. They contain nutrients that have neuroprotective effects and may help to improve memory and cognitive function in aging adults. Additionally, Reishi mushrooms have been shown to have anti-inflammatory effects, which can help protect the brain from damage.
King Trumpet Mushroom:
These powerful mushrooms contain large amounts of ergothioneine, a potent antioxidant that has been shown to protect the brain from oxidative stress and inflammation. Additionally, King Trumpet mushrooms contain beta-glucans, which have been shown to stimulate the immune system and improve brain function.
Maitake Mushroom:
These Japanese mushrooms are packed with nutrients, antioxidants, and beneficial compounds like polysaccharides and beta-glucans. They have been shown to have immune-boosting effects and impressive benefits for brain health. Maitake mushrooms can help to protect the brain from damage caused by inflammation and they've been shown to improve cognitive function and memory in animal studies.
These Mushrooms


Deliver Critical Nutrients Your Brain Craves!

Perhaps the most impressive nutrient is ERGO - or L-ergothioneine – an amino acid found almost exclusively in these types of mushrooms.

Research shows that those with age-related cognitive problems are more likely to have low levels of ERGO within their body, while older adults with healthy cognition were found to have higher levels of this crucial amino acid.

This link is likely because ERGO acts as a unique antioxidant, anti-inflammatory, and therapeutic agent that specifically helps protect brain cells. In fact, ERGO has been shown to protect against β-Amyloid peptides – neurotoxins that attack the cells of the brain and are attributed to most serious cases of age-related cognitive decline. If you suspect your memory is declining, this "mushroom vitamin" may be what you're missing!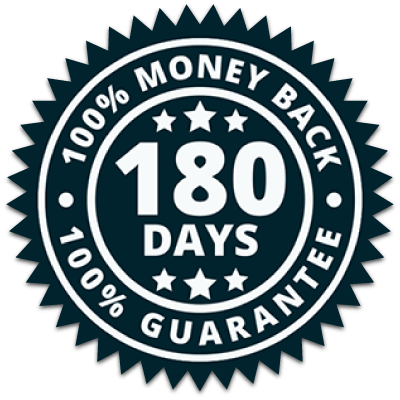 Or Your Money Back!
Simply return your order and let Purality Health's world-class, friendly customer care team know and they will return every single dime of your investment to you right away.
No Hassle. No questions asked.
Order Mushroom Mindboost
And get a FREE Bottle and Free Shipping FOR LIFE!
MUSHROOM


Mindboost
191 Reviews
Enjoy the amazing taste of chocolate while clearing the brain fog, improving memory, and protecting your cognition as you age… all while getting free shipping for LIFE!
One Bottle of Mushroom Mindboost ($44.95)
One Bottle of Mushroom Mindboost (FREE!)
FREE Shipping For LIFE!
HAVE QUESTIONS?
LOOK HERE.
By choosing this exclusive buy one get one free offer you will become a Purality+ Member and will receive 2 bottles per month at our special 30% discount ($63.00/month). Your shipping will ALWAYS be free (U.S and Canada). You can cancel or adjust your frequency at any time.
Plus, you get added perks like:
- 20% OFF coupons on your 1-year anniversary
- FREE ebooks every season
- Early-bird access to our sales and new products before anyone else
- Surprise freebies
- A dedicated customer care team, ready to serve you!
Mushroom Mindboost utilizes organic glycerin as its all-natural sweetening agent, which is derived from orangutan-friendly coconuts. Glycerin provides a delicious sweet taste without spiking your blood sugar or packing on extra calories.
Mushroom Mindboost is formulated with micelles and liposomes, an absorption formula which is scientifically proven to be 800% more efficient. This ensures that your body absorbs a superior amount of the mushroom's powerful compounds, which allows you to see AND feel a difference.
Mushroom

Mindboost
Nutrition Facts
Supplement Facts
Serving Size: 15ml (1 TBSP)
15 Servings Per Bottle
Amount Per Serving
Calories
Polyunsaturated Fat
0.1g
§
Monounsaturated Fat
0.2g
§
King Trumpet Mushroom Powder
50mg
§
Turkey Tail Mushroom Powder
50mg
§
Antrodia Mushroom Powder
50mg
§
Maitake Mushroom Powder
50mg
§
Reishi Mushroom Powder
50mg
§
EGCG (Green Tea Extract)
45mg
§
Liposomal Micelle Blend
1500mg
§
INGREDIENTS:
Purified Water, Organic Non-GMO Sunflower Oil containing Organic Non-GMO Sunflower Lecithin (contains Phosphatidylcholine for Liposomal formulations for bioavailability), Organic Non-GMO Glycerin, Organic Non-GMO Almond Butter, Organic Non-GMO Almond Butter, Organic Non-GMO Mushrom Extracts (composed of the following: King Trumpet Mushroom Powder, Turkey Tail Mushroom Powder, Antrodia Mushroom Powder, Maitake Mushroom Powder, and Reishi Mushroom Powder), Himalayan Sea Salt, Organic Non-GMO Green Tea Extract (containsEGCG), Less than 0.3% Organic Non-GMO Vitamin E (as D Alpha Tocopherol from Sunflower Oil, and antioxidant to protect flavor and color — used to produce Micelles for bioavailability), Organic Non-GMO Vanilla Extract, and Cocoa Extract.
DOES NOT CONTAIN: GMO, MSG, gluten, dairy, wheat, soy, yeast, lactose or milk. Gently Shake Before Using.
CAUTION:
Do not exceed recommended dose. Pregnant or nursing mothers, children under the age of 18 and individuals with a known medical condition should consult a physician before using this or any dietary supplement.
Keep out of reach of children. Store in a cool dry place. Refrigerate after opening.
CONTAINS ALMONDS
---
All of our bodies are different, so the timing may vary from one person to the next, but you should see results anywhere from within a day, up to a few weeks.
First, you may notice that you're thinking more clearly. Then you'll find that you have more energy. Following that, you'll find you remember things easier (no more "just on the tip of my tongue" situations). Plus, you won't feel as stressed out anymore, and you'll be able to handle tough situations with a more level-headed approach. Users also report improved sleep and a sudden glow to their skin.
Take one tablespoon once daily. We recommend taking it on an empty stomach, about twenty minutes before a meal. However, you can also add it to your favorite recipes, pour it into smoothies, a glass of water, or even drizzle it over ice cream!!
You get 50mg of each mushroom (all organic and non-GMO).
One bottle contains 15 servings. That's why we recommend you get two bottles at a time for a full one-month supply.
You have a full 180 days to try Mushroom Mindboost. If you don't LOVE your results, you can receive a full refund. No questions asked.